QX3-Rc Makeup Remover Pad Machine (Rectangle Cotton Pads)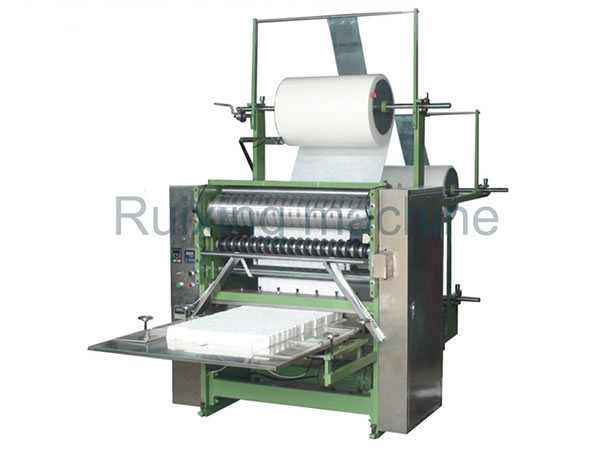 Ruixing offers a cost effective and high quality cotton pad machine for the production of rectangular make-up removal pads. It is a fully automatic cotton pad making machine, applicable for producing cotton pads for hygienic, medical and cosmetic industries.
This make-up removal pad machines uses non-woven fabric as raw material, automatically carrying out all processes from material feeding, to the precise scoring, longitudinal slitting, and crosswise cutting, counting and discharging.
Specifications
Model: QX3-Rc
Raw material breadth: 950mm
Fabric roll diameter: 700mm
Slitting device: Shear type round knife
Embossing device: Steel roll with embossing figure
Product size: Length: 0-10cm (adjustable); Width: depending on molds
Counting method: multi-step stacking counting
Raw material: Pure cotton, nonwoven fabric, cotton cloth
Control system: Variable frequency control
Power: Motor
Production speed: 1000-2000 pads/minute
Compressed air: Customers provide for themselves
Power supply: 380V, 50Hz, 4.5Kw
Weight: about 2500kg
Features
1. The non-woven machine is designed with a high precision frequency converter and an electrical control system, ensuring easy operation and little to no noise.
2. A unique structural design and an independently controlled slitting cutter enable the make-up removal pad machine to be easily installed and/or dismounted, ensure the production speed of 1000-2000pads/minute, and improve the product quality.
3. This cotton pad machine is made from superior steel with and without embossing figures. The slitting and cutting devices use premium knives, in order to ensure the accuracy.
4. An air driven counting device controls the stack counting. The size of the end product can be adjusted.
5. The machine platform and parts that come into direct contact with the cotton pads are all manufactured using stainless steel.
6. The make-up removal pad machine features an automatic pre-heating function, reducing the wait time and improving the working efficiency.
7. Productions including a simultaneous feeding of three non-woven fabric rolls or single roll feeding are also available.
8. It complies with all hygienic product production requirements.